Granola Recipe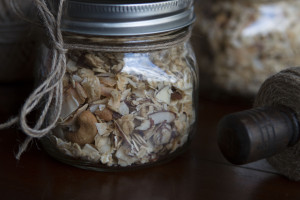 This is a healthy and delicious recipe for homemade granola.
Ingredients
3 Cups of rolled oats
2 cups of slivered almonds
2 cups of cashews
1 1/2 cups of shredded unsweetened coconut
1/4 cup of dark brown sugar
1/3 cup of maple syrup
1/4 cup of vegetable oil
1/2 tsp. salt
Directions
Preheat the oven to 250 degrees Fahrenheit
in a large bowl combine the brown sugar, maple syrup and vegetable oil and stir.
Add the oats, almonds, cashews, coconut and salt and combine with the sugar and syrup mixture.
Take a large jelly roll or sheet pan and cover with parchment paper.  Pour the mixture onto the pan.  Cook for 1 hour and thirty minutes, stirring every twenty minutes.
Remove from oven and cool.  Then transfer to an airtight container.  I prefer mason jars.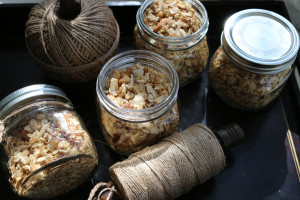 Serve with fresh berries or dried fruit.  I love it with plain or vanilla yogurt and lots of fresh berries!
Enjoy!
XOXO-Beth
---