Hot Pretzels with jalapeno cheddar sauce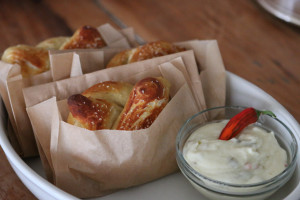 In the bowl of an electric mixer using the dough hook (or a bread machine on dough cycle or an electric food processor...), combine the water, cane sugar, yeast, salt, all purpose flour and buttter.

Mix on a low to medium speed for a few minutes until the dough is smooth. Place the dough into a large bowl and cover with a warm damp cloth. Allow the dough to rise for approximately one hour.

Bring the water with baking soda to a boil. Preheat the oven to 425 degrees F. Prepare a pan with parchment paper.

Remove the dough from the bowl and divide into six or eight equal pieces. Then take one of the pieces of dough and roll it into a long rope. Form a pretzel. Repeat This step with each piece of dough. You can also cut the rope into small bit size pieces if you prefer. I often make the bite size pretzels when I'm entertaining.

Using a stainless steel skimmer or spatula gently lower the pretzels into the pot of boiling baking soda water. Allow them to boil for 45 seconds and then remove and place on the parchment paper. Sprinkle with coarse kosher salt.

Bake at 425 degrees F for approximately 12 minutes or until dark golden brown.

Note: my kids prefer equal parts honey and butter mixed together for a dipping sauce to the jalapeno cheese sauce that i love.
Note: I usually make this sauce while the pretzels are baking. In a medium sauce pan, melt the butter and stir in the diced jalapenos. Whisk in the flour and cook for two minutes over medium heat, whisking constantly.

Pour the milk in slowly while continuing to whisk. Simmer until it thickens and then stir in the cheddar. Salt to taste and serve hot! Enjoy!!
---
---