Simple Pasta Sauce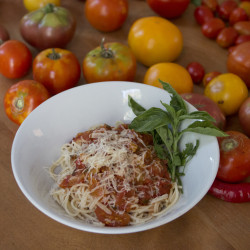 This is a very simple, yet delicious, recipe. In the early spring, just after the fear of frost had ended, we planted tomato plants in our garden. For months we watched them grow, and then today we harvested the vine ripened tomatoes. We filled baskets with many different varieties. If you don't have a garden, use ripe tomatoes from your local farmers market. I hope you enjoy this recipe as much as I do. Stay tuned for some more delicious and simple tomato based recipes! XO- Beth
| | | |
| --- | --- | --- |
| | | This is a very simple, yet delicious, recipe. In the early spring, just after the fear of frost had ended, we planted tomato plants in our garden. For months we watched them grow, and then today we harvested the vine ripened tomatoes. We filled baskets with many different varieties. If you don't have a garden, use ripe tomatoes from your local farmers market. I hope you enjoy this recipe as much as I do. Stay tuned for some more delicious and simple tomato based recipes! XO- Beth |
Pick approximately five pounds of vine ripe tomatoes and the chop into bite sized pieces.

In a large sauce pan heat the olive oil over medium heat and add the minced garlic. Then add the chopped tomatoes and parsley. Cook over low heat until you reach your desired consistency. I prefer a thicker sauce, so I let it cook for a few hours to reduce the amount of water and sweeten the tomatoes... If your sauce it bitter, a tablespoon of sugar will take care of that problem. I find the sugar is unnecessary when working with fresh picked vine ripe tomatoes. Season with salt and pepper to taste.

Serve over hot pasta! Enjoy!!
---
---