Pasta!!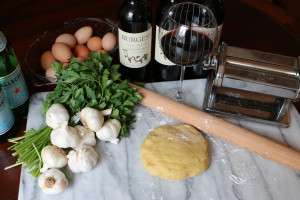 When I was a little girl I loved to cook with my parents.  No matter what we were making, I loved being in the kitchen dicing, peeling, mixing and making sure to attentively smell and taste along the way.  Most of all, I loved when we would finally sit around the table together and enjoy the delicious dishes we had created.  I have so many fond memories cooking with my parents.  By the time I was 8 years old they had given me free reign of the kitchen, and let me create dishes on my own…just as long as they were not hosting a dinner party that night, which they did quite often.  In hindsight, I don't recall cleaning up after myself that much.  My mom would patiently spend hours cleaning and reorganizing after I cooked, and I'm forever grateful for her encouragement and love (XOXO).  From that young age I took great pride in sharing my creations, and today I share the same enthusiasm with my little darlings.  They love to get creative in the kitchen.
My kids love pasta.  Don't they all?  Our process starts with them gathering eggs from our sweet chickens and breaking out the old fashioned pasta maker.
To encourage more creativity and whimsy, I challenged them to build their own drying rack out of tinker toys.  It worked perfectly and made the whole experience so much fun!  The kitchen was a bit messy, but we had a blast any they loved it.  The pasta was delicious…so much better than store bought!!  We can't wait for our next family pasta night!
Our Favorite Pasta recipe:
3 1/2 cups of unbleached flour
1 tsp. sea salt
4 extra large eggs (room temperature)
1 Tbsp. extra virgin olive oil
Take a marble or wooden board to use as a work surface.  Mix the salt in with the flour and then create a mound with the flour and make a well in the middle of the mound.  Put the eggs and olive oil in the middle of the well making sure to keep the walls of the flour high enough to keep the eggs and oil contained.  Using  a fork gently incorporate the flour and eggs.  It gets a bit messy but stick with it until you have a nice ball of dough.  If it seems to be a bit too sticky, add more flour.  (I also love to use my kitchen-aid mixer (approximately four minutes on low speed) with the dough hook.  It's amazing!)  Knead the dough until it is smooth and elastic, this will take a few minutes.  Dust the board with flour as needed.  When you have a nice elastic ball of dough, wrap it in plastic and let it rest for 20-30 minutes at room temperature (this is a very important step).  Then roll and form pasta as desired.  Today we used our Italian Atlas pasta maker.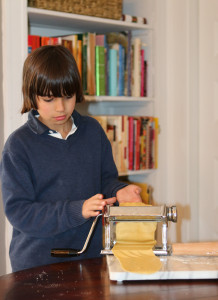 ---