Ingredient:
water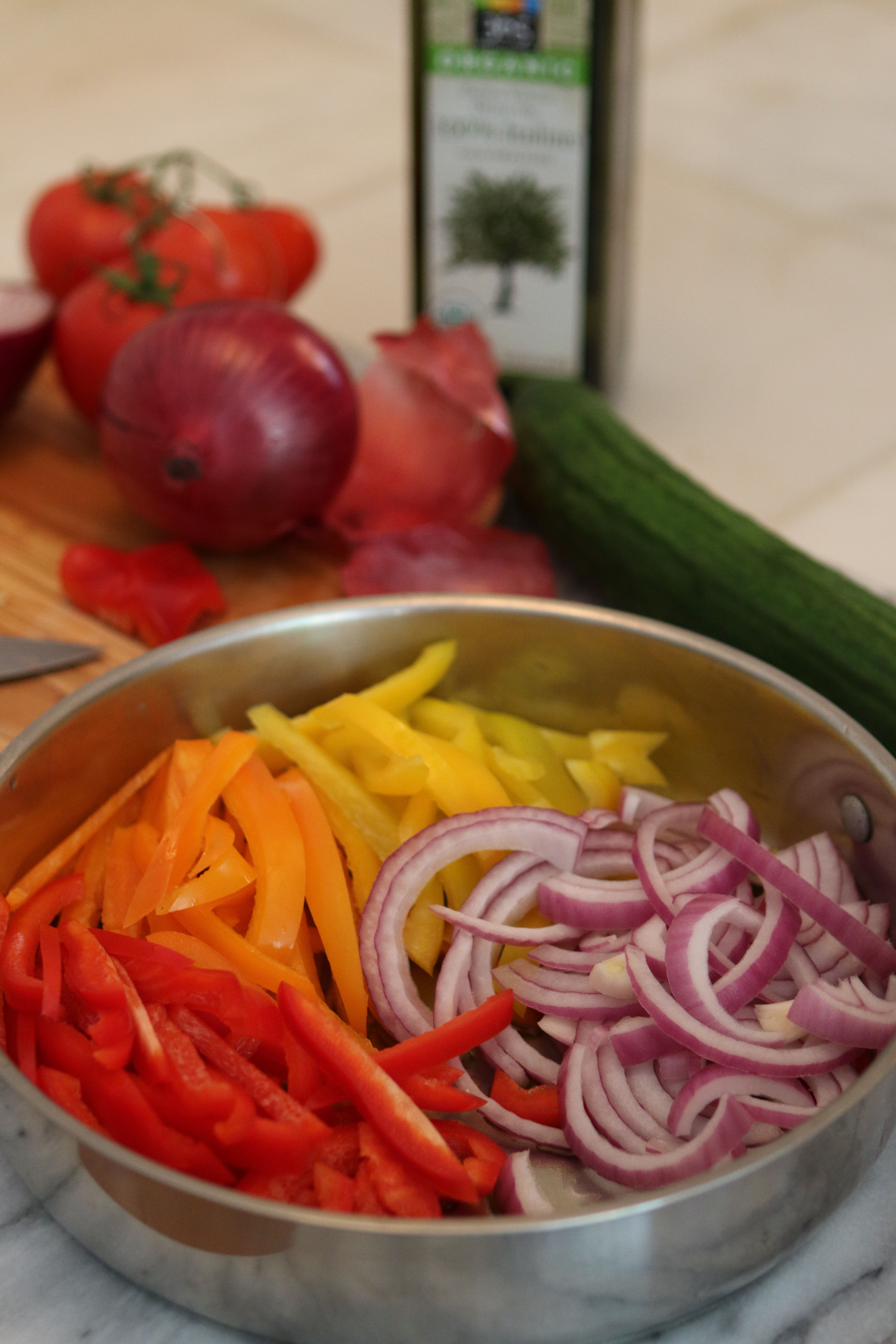 In an electric mixer fitted with the dough hook (or a bread machine on dough cycle or by hand) combine the water, olive oil, sugar, yeast, salt and flours.

Mix or knead until you have a smooth springy dough ball.

Cover the dough with a damp cloth and place in a warm place for approximately one hour or until the dough has doubled in bulk.

While waiting for the dough to rise, preheat the oven to 500 degrees F. If you're using a pizza stone, place it in the oven before you begin to heat the oven. It's very important that the oven is up to temperature before placing the pizza in the oven.

Slice the bell peppers and onions into thin slices and put in pan with olive oil. Also slice the tomatoes and set aside on a cloth or paper towel to remove some of the water.

Saute the peppers and onions in olive oil with a pinch of salt until translucent in color then remove from heat and set aside.

When the dough has doubled in bulk, remove the ball of dough and punch it down, removing any air bubbles... then place on a lightly floured flat surface.

Divide the dough in half and roll out the first ball of dough.

Sprinkle flour or cornmeal on a pizza peel, this keeps the dough from sticking when transferring to the oven. Then place the dough on the pizza peel.

Lightly drizzle olive oil on the surface, evenly distribute half of the onion and bell peppers and top with tomato slices, goat cheese, salt and pepper

place in the preheated 500 degree F oven for approximately five to ten minutes. Be sure to keep and eye on it, they cook very quickly at 500 degrees but it's the perfect temperature for a slightly crispy crust... Note, the thinner the crust, the faster it cooks.

Remove from the oven and serve. Enjoy!!